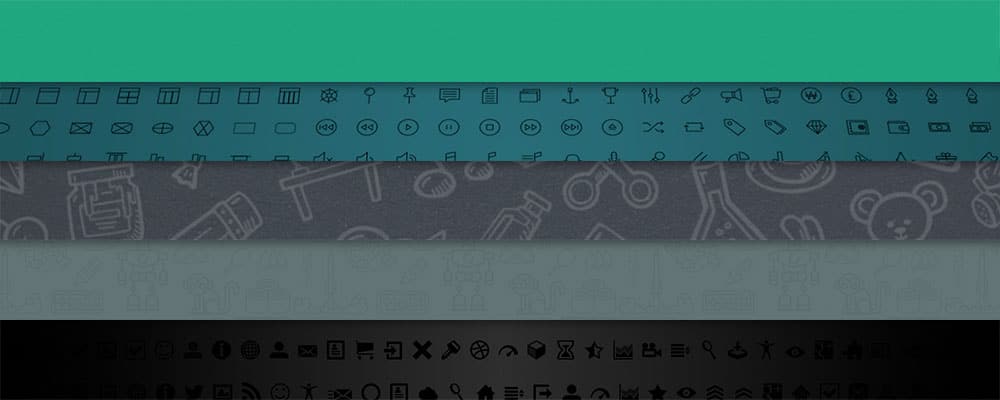 Incorporating icons into your website design is a great way to add some personality and enhance understanding for your users. However, unless you are an artist or graphic designer, creating your own website icons probably isn't an option. Luckily, there are tons of free website icon resources available online. Before we share some of our favorites with you, let's first talk a bit about licensing.
Creative Commons
Some of the icon sets mentioned below are licensed under a Creative Commons license. Creative Commons allows an item to be downloaded and used, as long as attribution is given. Attribution can be as simple as putting a line in your footer saying, "Icons designed by InsertDesignerHere".
Creative Commons has two parts:
Allowing adaptations – This determines whether the work can be modified and shared, or if no modifications to the original work can be made and shared.
Commercial vs. non-commercial use – This determines if the work can be used for commercial uses, or only personal uses.
Make sure you understand what the stipulations of a work's license are before you use it. For more information on Creative Commons, visit their website.
Font Awesome boasts 675 icons in version 4.7. However, version 5 will be coming out soon and will have over 1000 redesigned icons in the free version. Font Awesome is licensed under an Open Font License, so it is completely free for individual and commercial use, without attribution.
Font Awesome is a great resource that is super easy to use in projects. With so many icons, you'll probably find icons that suit your needs. One of the great things about Font Awesome is that it includes a ton of brand and logo icons.
The only downside to Font Awesome is that it can sometimes be hard to find exactly what you are looking for. However, there is search functionality and the icons are divided into categories, which is helpful in most cases.
Linea consists of 730 outlined website icons, although there are no social or brand icons. The website icons are grouped into five different categories: Basic (general icons), Music, Ecommerce, Software, Basic Elaboration (more general icons), Arrows, and Weather. These icons are free for you to use in personal and commercial project, but do require attribution.
Although most icon packs are paid, Good Stuff No Nonsense currently offers five free icon packs, including a pack of social icons. Admittedly, I haven't used these in a project (yet!), but I stumbled across the website recently and fell in love. These website icons are special because they are hand drawn from start to finish, by one person: first, they are created in pencil, then inked, and then traced by hand in illustrator. They are perfect if you are looking for something a bit more whimsical and playful, but still professional. These website icons do not require attribution.
Flaticon hosts almost 300,000 different website icons, organized into different packs created by different designers. With such a huge number of website icons, you can find an icon for anything. Want Pokemon icons? They have those (over 100 of them!). Need an icon of a jellyfish? There's over 50.
This site is great because you can browse different icon styles all in one place. With the vast number of website icons and packs, there's sure to be some that match what you're looking for. You must credit the designer; to avoid this, you can become a premium member.
This icon set has a similar aesthetic to Font Awesome, although it doesn't have quite as many website icons in the free version. However, there are social icons, as well as a handful of icons that aren't included in Font Awesome, such as some cool smiley faces. The free pack does not require attribution. Icomoon also has a couple other icon packs that you have to pay for, as well as premium versions of the free pack. 
---
No matter what website icons you're looking for, they probably exist and might even be available for free! But don't forget to check which license they are under so as to avoid copyright infringement. What's your favorite icon resource? Let us know in the comments!