Believe it or not, having a business card is still relevant in the world today. While most people stay connected online in some form, that still doesn't replace the core purpose and need for a business card – to establish an initial connection with the goal of developing a long-term relationship. This relatively inexpensive marketing tool creates opportunities to interact with people and acts as a tangible reminder to stay in touch in this digital world. Not sure how to design a business card? Follow these five simple steps to success!
1. Keep it Simple
When handing out your business card, one of the most important factors is the simplicity of your design. Is it easy to read? Does it flow nicely? Is it visually appealing? Give the receiver a sense of what can be expected, and save the complex elements for another space.
When designing your business card, think of how you want to be perceived, and what you want your first impression to be. Later, we will discuss the importance of this when trying to communicate with your specific audience. Overall, it is important to be clean, central and to the point. Don't beat around the bush; get to the point and communicate who you are to your intended audience (the cardholder). Start off with your standard U.S and Canadian size of 3.5" X 2", and begin your design!
2. Push Your Brand
Let's not forget that on top of having a simple business card, we must abide by our brand standards. Ranging from logos, typeface, spacing, calls to action and taglines, it is very important to continue the look and feel of your brand within your business card. Much like Step 1, you want your business card to give people insight into you or your company but also give them the proper tools to make further interactions.
3. Include Only Needed Information
When it comes to what to put on a business card, it is crucial to stay direct and uniform. Every business card should have a name, telephone number, email address, and if applicable, a website or directory for more information. Addresses should all have the same path and end in the same way after the forward slash.
Ex: Facebook.com/webascender
Youtube.com/webascender
With social media impacting just about every business out there, it is important to inform your audience the exact websites that you or your business can be found on. Glyphs, or icons are a very useful method of conveying that you can be found on these platforms and are simple, yet effective. Not only does this show the relevance of your business/brand, but it also gives the audience/receiver more ways to contact and locate information about you.
4. Know your Audience (Get Creative)
One of the best parts about creating business cards is that it is yours and specific to you and your brand. Feel free to spice up your card and add an extra flare or element to make your card stand out. There are plenty of ways to go about doing this without violating Step 1, which is to keep it simple. Below are some creative ways to make your business card stand out.
Cutouts
This business card effectively uses a cut out option with their brand logo in the negative space. This design gives the business card a clean and unique feel.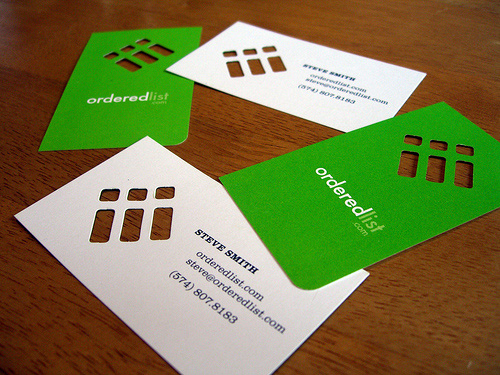 Shape or Die Cutting
Shapes are another powerful way to spice up your business card and communicate a powerful message. Here, the water jug shape works beautifully to convey the company message as well as quickly differentiates the company from others competitors.
Pop-ups
Effects such as pop-ups immediately catch the attention of the viewer, and that is seen here with the addition of a simple butterfly pop-up.
Addition Style
This business card showcases how an additional style (addition of physical fret tabs) can be used as it effectively engages the receiver with the card.
5. Printing
While your business card design may be visually rocking, printing your card in a professional way is a must. Whether done in store or online, a key aesthetic to your business card design is to give it that professional look and feel. While there is a plethora of print styles, some of the most commonly used styles are:
Varnishing
This finish acts as a coating of matte, silk or gloss, and protects the card. This method has a plastic feel, helps expand the life of the card, and can really make your card shine.
Die Cutting
Die cutting is a great way to explore creativity and allows the business card to go beyond the standard shape. Its a simple process and ads a unique spin to your traditional business card.
Foil Blocking
This style of printing gives the business card a nice look and feel. Mostly used with typography and logos, this style is applied with heated die pressed onto colored foil.
If you followed all of the above steps, then say hello to your fresh new business card for 2015!
If you would like to set up a free consultation with one of our design specialists, please feel free to contact us.